November 2017 Newsletter

Parish Events
1st
- All Saint's Day, a Holy Day of Obligation, Masses at 7:30 AM and 7 PM
2nd
- All Soul's Day, Masses at 7:30 AM and 7 PM
4th/5th
- Rosary Guild Meeting, Saturday at 9 AM in the Portable Library
- Coupons in Flight, Sunday at 9:15 AM in the School Art Room
- 2nd Collection for Seminarians at all Masses
- Kenya Partnership Weekend at all Masses
10th
- Parish Center Closed for Veteran's Day
11th
- Big Money Bingo, doors open at 6 PM in the Hall
13th
- Moms' Ministry, 7 PM in the Youth Ministry Office
17th
- Pray and Quiet mediation in the convent chapel beginning at 12:30 pm
18th/19th
- 2nd Collection for Human Development at all Masses
22nd
- Turkey drop off for Beans and Bread, upper parking lot after 6 PM
23rd
- Happy Thanksgiving!! Masses are at 7:30 AM and 9 AM
- Parish Center Closed for Thanksgiving Holiday
24th
- Parish Center Closed for Thanksgiving Holiday
25th/26th
- Maintenance Collection at all Masses
27th
- Moms' Ministry, 7 PM in the Youth Ministry Office
29th
- Speaker Series Kick Off, 6:30 PM in the Hall.
All Saints Day
Please join us for Mass on this Holy Day of Obligation!
Vigil Mass, Tues 10/31 at 4pm
Wed 11/1 at 7:30am or 7pm
All Souls Day
A Mass remembering our loved ones who passed to new life since the last Feast of All Souls will take place on Thursday, November 2nd at 7:00 pm in the church. For those who have lost a family member; please come and celebrate their life with us. There will be a time to remember each of our deceased loved ones and light a candle for them during the mass. If you wish, you may bring a photo of your deceased loved one and place it by the altar or on one of the window sills. We will also go outside to our cemetery after the mass to bless the graves of our ancestors in faith. All are welcome to attend.
Thanksgiving Turkeys for Beans and Bread
The St. Stephen's Fathers' Club and Beans and Bread need your donations once again to help feed the less fortunate this Thanksgiving. We need volunteers to bake a turkey, carve it and deliver it to the Church on Wednesday, November 22nd after 6 PM. You can put the bones on the side of the pan or in a clean plastic bag along with some gravy and canned goods. If you are unable to bake a turkey but would like to donate money towards a turkey, that would also be greatly appreciated. All checks should be made payable to St. Stephen's Fathers' Club and dropped off at the Church office. Please note that the turkey drop off location in on the upper parking lot outside the school hall. Please call Neil Cummins if you have any questions at 410-913-2179. Thank you!
Pope Francis' Global Migration Campaign events #ShareJourney
Join us for a prayer for Global Solidarity on Friday, Nov 3rd, in the Convent chapel. All are welcome!
Kenya Partnership Weekend
Service Spotlight at all Masses and Fair Trade items, fabrics and jewelry for sale during community Sunday after all Masses on November 4th/5th in the Church basement. A beautiful soapstone carved Holy Family will be raffled off, $5 a chance or 5 for $20. Volunteers still needed & baked goods welcome! Please join us for Community Sunday after all Masses in the Church basement.
Monthly lunch service at East Side Shelter
Please see the signupgenius to choose a Sunday that you would like to join us in this wonderful opportunity to serve! Upcoming Dates: Nov 5 & Dec 3.
Coupons in Flight!
Cutting coupons help support US military families stationed around the world: First Sunday of the Month in the 2nd floor of the school, 9-10am. Can't join us to clip? we'll collect your coupons from the past 4 months: drop them into the collection box in the donation room under the parish center porch. Please note: The coupons must be cut just inside the black dotted/solid line, please do not cut off the corners. Coupons collected in November can be as old as Ju;y. For more information, please contact Mary Marston at moistureproof@verizon.net
Big Money Bingo!

Join us November 11th in the school hall to benefit St. Stephen Athletics! Doors open at 6 PM; games start at 7 PM. Over $1,500 in cash prizes. $15 admission for one sheet of 6 cards per game for 16 games. Double your amount of cards for $5 more. Beer, wine, food will be sold. Instant bingos/ 50-50's. Must be 18 or over. Tickets sold through the school office, or call 410-592-7617.
"National Vocation Awareness" Week
will be celebrated in our country Nov 5-11, 2017, Please ask our Lord for more dedicated, holy priests, deacons, and consecrated men and women. May they be inspired by Jesus Christ, supported by our faith community, and respond generously to God's gift of a vocation! 11/9 Special Adoration for Vocations, Convent Chapel, 6 – 7:30pm.
Support our youth through Scouting! Watch for Fruit, Popcorn, and Cookie Sales!
Moms Ministry
Is reading and discussing the book 'Those Who Saw Her: Apparitions of Mary' by Catherine M. Odell. We are continuing to have meetings on the 2nd and 4th Mondays each month. Upcoming gatherings in the Youth & Young Adult Ministry Office: November 13 & 27, December 11 &No 4th Monday meeting in December due to Christmas. If you have not had a chance to join us before, please feel welcome to drop in at anytime! Need more info, contact Mrs. Liz Pippin at greenpup83@hotmail.com
Time for solitude and prayer
The world is full of noise, pressure, and busyness. The truly important things in life often get lost
in the day-to-day rush. Take time on Friday, November 17, 12:30-2:30pm to focus on what matters most: the things of the spirit. The convent chapel will be open during the day for prayer and quiet meditation with info in this flyer. Take the time to be refreshed spiritually and connect with God's love for you. All are welcome. Park in front of the convent, or along the fence dividing the school parking lot from the convent.
2017-18 St. Stephen Speaker Series Kick Off Nov 29th!
Did you know that WE ARE ALL MISSIONARY DISCIPLES THROUGH BAPTISM? Fr. Greg Gay will speak about the basics of being a missionary disciple. Come and learn how you can bring the Good News to all those you encounter. Wednesday, Nov 29 in the hall. 6:30 PM refreshments, 7 PM presentation. All are welcome!
Advent Angel Adopt-a-Family Outreach
Our Angel program is just around the bend. You have certainly noticed many changes in the past two years. One thing has not changed - we assist families in need at Christmas. The families come to us from referrals, other churches and organizations, and direct requests.
We strive to ensure every participant receives the items on their wish list. Sometimes the items are coats and shoes and other times it is a simple toy. Please only take an Angel for a gift you know you can purchase. Please return every Angel with a gift or bring the Angel back and place it in the box for someone else to take. The Angels have a code number, this helps the committee place the right gift with the right family. Please look for the purple Angel boxes starting Saturday, November 18. Thank you to everyone who participates in this season of giving program.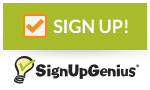 Please visit the Service Page of the Parish Website OFTEN to see current opportunities and to sign up! Sign up Genius: Signing up to participate in events or volunteer is easier than ever! Check the SUG often to see the latest opportunities!
Young Adult Ministry
Contact Info: kreynolds@archbalt.org (best)
or 410-592-7294.
* Like our Face Book
* Check out our Pinterest
* Follow us on Instagram
Help Wanted: A young adult volunteer who uses/posts to social media daily. Looking for someone to help relay our activities to others. Please email Kellie if interested kreynolds@archbalt.org
Looking to do some service? Be sure to check out the Service tab of our website and the sign up genius link to see upcoming projects! We are always in need of volunteers to support our first Sunday of the month lunch at the East Side Shelter. This month, Advent Angel tags will be available – we also have a shopping night planned for Dec.
Looking to do something social?
11/12 Spaghetti Dinner at St. Leo's in Little Italy, Noon – 6pm
11/29 Kick Off Speaker Series with Fr. Greg Gay! 6:30 refreshments, 7pm talk, Hall
Looking for something spiritual? Check out events happening at the Convent Chapel! A Spiritual Oasis awaits you, list of events can be found on the parish website under Parish Life, Celebrating the Liturgical Season.
11/1 All Saints Day Holy Day Mass, 7:30am or 7pm
11/3 Global Solidarity Prayer in the convent chapel, 7pm
11/4 Given: Unveiling the Meaning of Marriage event, 9:30am – 2:30pm, St. Ignatius Hickory. Ticket info here
11/6 Vespers for those who have lost children through miscarriage, 6-7:30pm. St. Mary's Seminary Chapel
11/9 Adoration for vocations; adoration every Thursday in the convent chapel through 11/30, 6pm – 7:30pm
Youth Ministry
Monthly Online Newsletter: Each month we will POST ONLINE a "Youth Ministry" newsletter, and you can access this anytime from the website. Scroll down from the monthly calendar on the Youth Ministry home page
#MSYM - Middle School Youth Ministry: Youth in grades 6-8, get your permission forms in now with your choice of meeting time. Next event is Nov 12th! We hope you will join us – and make a commitment to actively growing as a missionary disciple!
High School Youth Ministry:
11/3 Global Solidarity Prayer Service, Convent Chapel, 7pm
11/4-5 Kenya Partnership Weekend, Service Project at all Masses, use the Sign Up Genius
11/5 Lunch at East Side Shelter, use the Sign Up Genius
11/7 Vocation Discussion, Art Room, 7pm
11/9 Adoration for Vocations, Convent Chapel, 6pm – 7:30pm
11/21 Bonfire and collection for East Side Shelter (more details to follow), Pavilion, 7-8:15pm – Chaperons Needed!
Peer Ministry: Next meeting will be Friday, Nov 17th at 7pm in the Youth/Young Adult Office, includes dinner. Those interested in serving as Peers in grades 6-12 should plan to attend! Please RSVP to stephenyouthasst@hotmail.com before Nov 17.
Please Pray: For all the high school students, their parents and chaperons attending the National Catholic Youth Conference (NCYC) in Indaiannapolis, Nov 16-19!
Reserving for 1/19/18 Youth Rally/March for Life NOW: Tickets are extremely limited this year. If you are a high school student and would like to attend on Friday, Jan 19, 2018 – please contact the Youth & Young Adult Ministry office. We will put in a request for tickets, tickets are NOT guaranteed. Travel to and from the event will most likely be via train and metro. More details to follow.
Faith Formation
High School Small Group will meet the following dates: Nov 7, 14, 28 in the Art Room, 2nd floor of school, 7-8pm. All High School students are welcome!
Items for the Villa Maria project are due in your classroom by Nov 5th. Thank you for your support!
| | | | | |
| --- | --- | --- | --- | --- |
| Grade | Sex | Size | Item | Need |
| PreK/Kindergarten | Boys | 6 | Underwear | 10 pairs |
| 1st Grade | Teen Male | Men's XL | Boxer Underwear | 10 pairs |
| 1st Grade | Boys | 8 | Underwear | 10 pairs |
| 2nd Grade | Teen Male | Men's Small | T-Shirt | 10 |
| 2nd Grade | Boys | M | T-Shirt | 10 |
| 3rd Grade | Teen Male | Men's Medium | Boxer Underwear | 10 pairs |
| 3rd Grade | Boys | L | T-Shirt | 10 |
| 4th Grade | Teen Male | Men's Large | T-Shirt | 10 |
| 4th Grade | Boys | XL | T-Shirt | 10 |
| 5th Grade | Girls | 10 | Underwear | 10 pairs |
| 5th Grade | Teen Male | Men's Small | Boxer Underwear | 10 pairs |
| 6th & 7th Grade | Teen Girls | Women's Small | Underwear | 20 pairs |
| 6th & 7th Grade | Teen Male | Men's Medium | T-Shirt | 20 |
| 8th Grade | Teen Girls | Women's Medium | Underwear | 10 pairs |
| 8th Grade | Teen Male | Men's Large | Boxer Underwear | 10 pairs |

Confirmation Notices
Confirmation 2018 Small Group Sessions: Sign up is available online at the SignUpGenius until Nov 5th! Choose your preferred meeting day, Sunday or Tuesday. Spaces will be limited!
Confirmation 2018 Candidate Interview/Potluck: November 8th or 9th, please choose your date on the SignUpGenius. In addition to signing up, we are inviting folks who would like to bring items for a pot luck dinner. Note: whether or not you sign up to bring something, please sign up that you are attending the interview. Thanks!
Confirmation 2018 Packet: A packet will be mailed to each candidate in MID NOVEMBER, which includes information about your retreat date & Mass time choices. Please let us know if you do not receive this information. Contact Pam Franke at 410-592-8666 or pfranke@archbalt.org. NO RESERVATIONS WILL BE TAKEN VIA EMAIL - - Please return your completed request forms by the due date indicated on the form. Thank you.