New! Sign up Genius: Signing up to participate in events or volunteer is getting easier than ever! Click the logo to be taken to our parish events! Please note: not all projects need to be signed up for in advance, so not all will appear on the signupgenius page.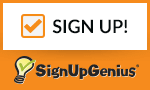 List of Community & Parish Service Opportunities for Confirmation Candidates (& Anyone!) Click Here
Service & Social Justice
Happening NOW:
Athletic Shoe Drive for Villa Mara: New Shoes for Children and Teens at Villa Maria. Collecting now through Aug 31. Please see SignUpGenius to participate & for details.
http://www.signupgenius.com/go/20f0b4caaaa2fabfe3-newshoes
8/6 East Side Shelter (with Parent or adult) *signupgenius
8/9 Camp GLOW (9am – 3pm) God Loves Our World!
Middle & High School youth are invited to join us at O'Dwyer Retreat House for a day of service with the adults of Camp GLOW. God Loves Our World is a sleep-away camp for adults with mental disabilities. On Wednesday 8/9 we will participate in arts and craft activities in the morning, followed by Mass with one of our Bishops, then lunch. After lunch enjoy swimming, pool-side games, or indoor activities. ADULTS chaperons needed for this event, must be "Shield the Vulnerable" trained. No transportation provide, please meet at O'dwyer at 9am and get picked up at 3pm. RSVP by Sun 8/6 - turn in your permission form to the Youth Ministry office, there is a mail slot on the bottom of the office door! This is a Confirmation "Parish Service Project."
8/6-8/9 High School Mission Trip: Click Here for Details! Space is LIMITED, register now!
8/20 Kenya Partnership Anniversary Tea!
In honor of our partnership 18th year anniversary in August, the committee will hold a Kenya Tea Social on Sunday, August 20th after the 10:45 Mass. The committee will serve assorted teas and refreshments after this 10:45 AM Mass only in the church basement. We will set-up tables to view our partnership progress and ask for donations for "Bibles for Kenya" project.
Want to Volunteer: Please let us know if you are interested in helping with the set-up, serving refreshments, hosting at tables, and breakdown for our event. Click the SIgn Up Genius Link below:
http://www.signupgenius.com/go/20f0b4caaaa2fabfe3-82017
8/30 Baby Bottle Craft Project! All are welcome to join us for a craft project as we assemble decorative envelopes for our annual respect life campaign. Join us in the Library from 6:30-8pm as we prepare for this important project! This is a great project for families to do together and is a Parish Service Project (PSP) for Confirmation.
First Saturday Rosary Guild (Sept - June)
Join us each month, usually the first Sat of the month unless a holiday weekend, from 9-10am in the Learning Cottage/Library on the School lot. All are welcome! Contact Mary Bauer for more information: marybob73@aol.com
First Sunday Serve Lunch at East Side Shelter
Each participant is asked to bring a bag of groceries from our shopping list. Arrive at the shelter at 11am, cook & serve lunch, and we are done by 1pm. Middle & High School age youth should be accompanied by an adult. Meet at the shelter 9100 Franklin Square Dr. Rosedale, MD 21237 410-853-3000. See the Sign Up Genius for details, grocery list, and dates to join us:
http://www.signupgenius.com/go/20f0b4caaaa2fabfe3-monthly
First Sunday Coupons in Flight (Oct - April)
Join each month, usually the first Sun of the month unless a holiday weekend, 9:15 - 10:15 in the Art Room (2nd floor of School, top of stairs). We collect, cut, and distribute coupons to our military families overseas!
PLEASE NOTE FOR COUPONS: The coupons must be cut just inside the black dotted/solid line, please do not cut off the corners. Expired coupons accepted within 3 months: e.g. Coupons at our March meeting can be as old as December 2016. For more information, please contact Ms. Mary Marston at moistureproof@verizon.net
SUMMER COLLECTION: Coupons can be dropped off in the donation room under the parish center back porch.
---
Volunteer Training Information
Worthy of the Call - Youth Volunteer Training Info
Youth ages 14-18 who would like to volunteer at St. Stephen Parish or who would like to engage in community service through Youth Ministry should plan to attend Worthy of the Call volunteer training when they turn or are about to turn 14. Please RSVP if you'd like to attend the training to Robin Urbanski stephenyouthasst@hotmail.com or call 410-592-7294.
Next Training Date: 7/11/17 (details on time & location will be provided when you register)
******
Shield the Vulnerable - Adult Volunteer Training Info
Please contact Pam Franke, training coordinator, to receive the information on registering for a volunteer and instrctions for the online training. pfranke@archbalt.org or 410-592-8666
---
+++++ONGOING PROJECTS+++++ JOIN US!
Our Daily Bread - Join us in a 22+ year tradition of providing a delicious chicken and broccoli casserole for the clients at ODB. Recipe and pans can be picked up in the back of Church on the windowsill or in the back of the Hall during 10:45 Mass. Drop off your assemble & frozen casserole to the parish center pantry freezer below the back porch before the 3rd Saturday of the month. Click here for: Broccoli Chicken Casserole Recipe.
Helping Hands Food Pantry - non-perishable food items can be dropped off and placed in the pantry bin located under the parish center porch. Volunteers Needed Monday - Saturday at Helping Hands 9am - Noon. Contact Gil Thompson 410-592-7676.
Rosary Guild Meets: Usually the first Saturday of the month, September - June. 9am-10am in the Library (Learning Cottage on School Parking Lot).
Rosary Guild Contacts:
Did you know our parish has a Rosary Guild that meets on the first Saturday of each month from 9am – 10am (Sept - May) in the Library (Learning Cottage)? All are welcome to attend so you can learn to make rosaries and how to pray the rosary! The Rosary Guild makes beautiful rosaries for missions and for our parishioners preparing for Sacraments. Many hands make light work, so please join us any time! For more information, contact Mary Bauer at 410-515-3184.
Also, twice a year (May & Oct), we gather at our beautiful 'Mary Garden' by the Rectory to pray the rosary and witness to all passers-by. For more information, contact Jackie Wesolowski at 410-510-7507. October is the month of the Rosary - Pray the Rosary!
St. Stephen, Bradshaw/St. Steven, Kenya Partnership Committee
- Bibles for Families at St. Steven, Kenya! During this year we've been "Echoing God's Word" through our Sacramental and Faith Formation Programs, our School, in our Liturgies, and through Service, Evangelization, and Stewardship. We would like to Echo God's Word in our Sister Parish by raising money so that 200 families may have a Bible! You can contribute to the purchase of a Bible by sending to the parish center your check in the amount of $20 made payable to St. Steven, Kenya. We'll be raising Bible funds through our anniversary date of August 15th. Each family who contributes funds for a Bible will receive a commemorative bookmark for your own Bible honoring our spiritual exchange and partnership!
Contact Info: Mary Bauer 410-515-3185 or marybob73@aol.com
The St. Steven's Kenya / Bradshaw Partnership was initiated 14 years ago when 8th grade Faith Formation students sent rosaries to a Catholic church in Kenya. A relationship blossomed and a formal ministry was formed with the purpose of cultural & spiritual exchange. Visitors from both parishes have been welcomed with open arms in a spirit of mutual respect and hospitality.
Our annual Spring "Kenya Day" unites us in spirit and the Fall "wood carving event" has enjoyed your continuous support . All proceeds will help our sister parish with their spiritual and physical needs.
Through the generosity of YOU-- St. Stephen's Bradshaw, our fundraising efforts have enabled St. Steven's, Bomu to complete their church, build a 4 story bell tower, install a water well and help the nurse provide food for the sick. Our school children have exchanged letters, sent shoes, soccer shirts and collected coins to develop our relationship.
Operation Coupons in Flight - Will be meeting once a month, during the school year. You may always donate your coupons to the box in the pantry under the porch. For more information contact: Mary Marston moistureproof@verizon.net
SOCIAL JUSTICE LINKS
Environmental Justice
Human Development
Poverty
Modern Slavery
Faithful Citizenship
Death Penalty
HHS Mandate
See More info on our RESPECT LIFE page