~~**~~ PARENT INVOLVEMENT ~~**~~
We encourage and invite all parents to participate in the process of Confirmation Prep. For some of these opportunities, adults are required to complete the Child & Youth Protection Training. Contact Pam Franke at pfranke@archbalt or 410-592-8666 to register for online training.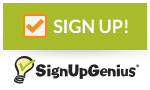 CONF 2018 Parent Volunteers:
Read about Volunteer Opportunities Here: Confirmation 2018 Adult Volunteers
Sign up at Signupgenius (link above)
CONF 2018 Parent Volunteers:
Sign up at Signupgenius, click the icon above
Confirmation
The Sacrament of Confirmation celebrates the fullness of the Holy Spirit conferred upon the individual at Baptism. It is seen as the process of ongoing renewal and commitment to grow in spiritual maturity and service to the people of God, thus proclaiming the lived expression of Christ in the world.
~~ Welcome Candidates for 2018 & 2019! ~~
Youth who have been active in St. Stephen Faith Formation, attend Mass weekly, and engage in acts of service during the school year 2016-2017 (in a Catholic School or through the Parish or Home-School based program) are invited to continue on to:
Immediate Prep to be Confirmed in 2018 (or)
Remote Prep 2017-18 and Immediate Prep 2019, to be Confirmed in 2019

+ Clickable Confirmation

Forms +

2018 Confirmation Information
For Questions about Registration please contact Pam Franke pfranke@archbalt.org
SERVICE:
Remote Prep Service Record (Blue Sheet) for Confirmation 2019
Immediate Prep Service Record (Gold Sheet) for Confirmation 2018
List of Community Service Contacts
SPONSORS:
SAINT PROJECT:
INTERVIEWS:
(This Section COMING SOON)
Interview Sign Up Instructions - Please read BEFORE signing up!
Sign Up Genius Link for Interview Schedule: http://www.signupgenius.com/go/20f0b4caaaa2fabfe3-confirmation3
2018 Confirmation Enrollment Mass Reservation **Please Note error on Enrollment Form: NO 12:15 Mass available for enrollment
2018 Confirmation Retreat Information
2018 Confirmation Retreat Permission Form
2018 Confirmation Mass Reservation
~ General Information ~
At St. Stephen Church, preparing for Confirmation is a process that happens over several school years and is parish-based, meaning that students from the Parish School, other Catholic Schools, Home School programs, and Parish Faith Formation meet together for activities and instruction.
Mass attendance every weekend is crucial in forming the commitment to the Catholic Faith in the context of a parish which one seeks to proclaim membership.
· In Year 1, Remote Preparation, youth completing their 6th grade year are invited to enter into the preparation process. It includes, in addition to weekly Mass attendance:
Continued and Ongoing Enrollment in a Catholic School or age-appropriate Parish-based Faith Formation or Home School program; and ongoing service experiences (a goal of at least 15 hours) including participation in one St. Stephen parish-based service project (usually offered once or more per month throughout the entire year).
· In Year 2, Immediate Preparation, youth completing their 7th grade year or higher and having met the standard of Year 1 are invited to enter into and commit to participating in the immediate preparation process. The same standards of year 1 should continue: Mass attendance, continued Catholic or Home School or Parish-based Faith Formation attendance, and ongoing service experiences. In addition, Year 2 includes:
Fall Sponsor Night, A Saint project, An interview experience, Confirmation Enrollment during a weekend Mass, four Sunday sessions on the Sacrament of Confirmation, a retreat, and a culminating evening of reflection.
Sponsors take an active part in the immediate preparation of the candidate by participation with the candidate in the Enrollment ceremony, Sponsor Night, and an Evening of Reflection, as well as the Confirmation ceremony itself. Parents offer support by attending a Confirmation Seminar for both the remote & immediate prep years along with the candidate, and by encouraging and assisting their children in Christian Service projects. Parents/Parishioners offer support as partners in prayer.
· Years following Confirmation, the Covenant Year (Mystagogy), newly confirmed youth are encouraged to continue in their weekly Mass attendance, ongoing and continued age-appropriate faith formation, and Christian service. In particular, youth are invited to be active in a parish-based ministry to share their gifts as missionary disciples in their Church community and beyond! Many opportunities are available for a variety of interests. To get involved in a ministry, please contact Mrs. Kellie Reynolds 410-592-7294 or kreynolds@archbalt.org
______________________________________________________________________